Bigfootloose and Finn Fancy Free is now out in Trade Paperback! (links below)
Now is the perfect time to jump into the series if you have not already, with book 3 coming out in March to complete the trilogy arc.
In fact, Tor has re-posted the first three chapters to book 1 on the Fantastic Firsts online series if you want to check it out, and is also sponsoring a Goodreads Giveaway for book 1.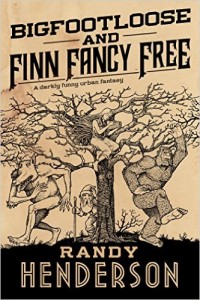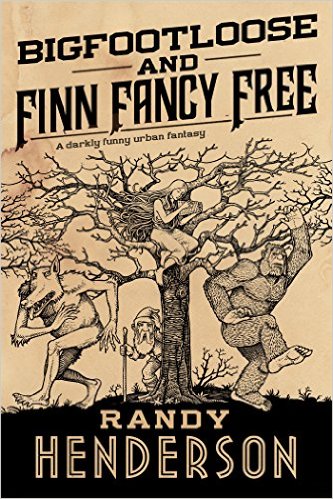 About Bigfootloose: In this sequel to Randy Henderson's acclaimed debut novel, Finn Fancy Necromancy, Finn Gramaraye is settling back into the real world after his twenty-five-year-long imprisonment in the otherworld of the Fey. He's fallen in love with a woman from his past, though he worries she may love a version of him that no longer exists. He's proved his innocence of the original crime of Dark Necromancy, and he's finding a place in the family business–operating a mortuary for the Arcane, managing the magical energies left behind when an Arcane being dies to prevent it from harming the mundane world.
But Finn wants more. Or different. Or something. He's figured out how to use the Kinfinder device created by his half-mad father to find people's True Love, and he'd like to convert that into an Arcane Dating Service. It's a great idea. Everyone wants True Love! Unfortunately, trouble always seems to find Finn, and when he agrees to help his friend, the Bigfoot named Sal, they walk right into a Feyblood rebellion against the Arcane Ruling Council, a rebellion being fomented by unknown forces and fueled by the drug created by Finn's own grandfather.
Links for Book 2: Bigfootloose and Finn Fancy Free:
Bigfootloose Trade PB on Amazon
Bigfootloose Trade PB at University Bookstore (Seattle)
Bigfootloose Trade PB at Powell's (Portland)
Bigfootloose Trade PB at Mysterious Galaxy (CA)
Bigfootloose Trade PB at Tattered Cover (CO)
Bigfootloose Trade PB at Barnes & Noble
For UK readers, it remains available in paperback from Titan UK at:
Bigfootloose at Waterstones (UK)
Links for Book 3: Smells Like Finn Spirit:
Smells Like Finn Spirit (Tor US) on Amazon
Smells Like Finn Spirit (Tor US) at University Bookstore (Seattle)
Smells Like Finn Spirit (Tor US) at Powell's (Portland)
Smells Like Finn Spirit (Tor US) at Mysterious Galaxy (CA)
Smells Like Finn Spirit (Tor US) at Tattered Cover (CO)
Smells Like Finn Spirit (Tor US) at Barnes & Noble
And for UK readers, it is available at (among other booksellers):
Smells Like Finn Spirit at Amazon UK
Smells Like Finn Spirit at Waterstones (UK)
Originally posted at my Mirror Blog at: http://www.randy-henderson.com/2017/01/b
igfootloose-trade/
---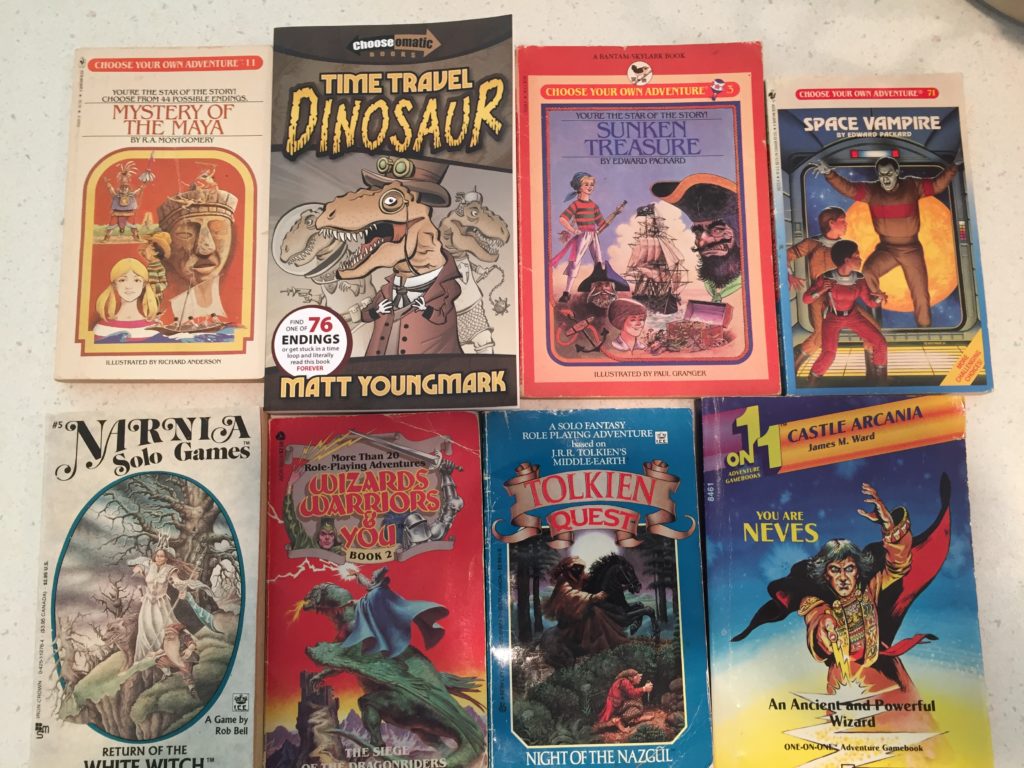 One of my big nerdjoy moments recently was when I found a virtual Choose your Own Adventure book while adventuring in Skyrim, titled Kolb and the Dragon.
And that got me remembering all the big predictions and promises at the dawn of ebooks and tablet computing about living, interactive books.
And that made me think of all the awesome IF games I used to enjoy, such as Zork and Hitchhiker's Guide to the Galaxy.
And then I ran downstairs to our library and grabbed a handful of my "interactive" books, pictured above.
There are, of course, the classic CYOA books, like Space Vampire, and the awesome new breed of CYOA books, like the Choose-o-matic series from Matt Youngmark.  
In fact, he did create one specifically intended to be easily played on your tablet or phone: U, Robot.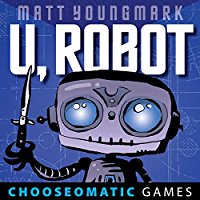 Some CYOA books, such as Wizards, Warriors and You, present an option in the story itself to choose between a set of characters, and then continue the adventure as the chosen character, increasing the variety of readings.
But there were also books that tried to take it even further, incorporating character stats and other RPG elements. 
( Read the rest of this entry »Collapse )Originally posted at my Mirror Blog at: http://www.randy-henderson.com/2017/01/interactive-books/
---
I am pretty terrible about updating folks on Finn Fancy world, so here's two quick exciting updates:
First, UK Cover for Smells Like Finn Spirit (from Titan UK), where they continue the fun 8-bit art theme!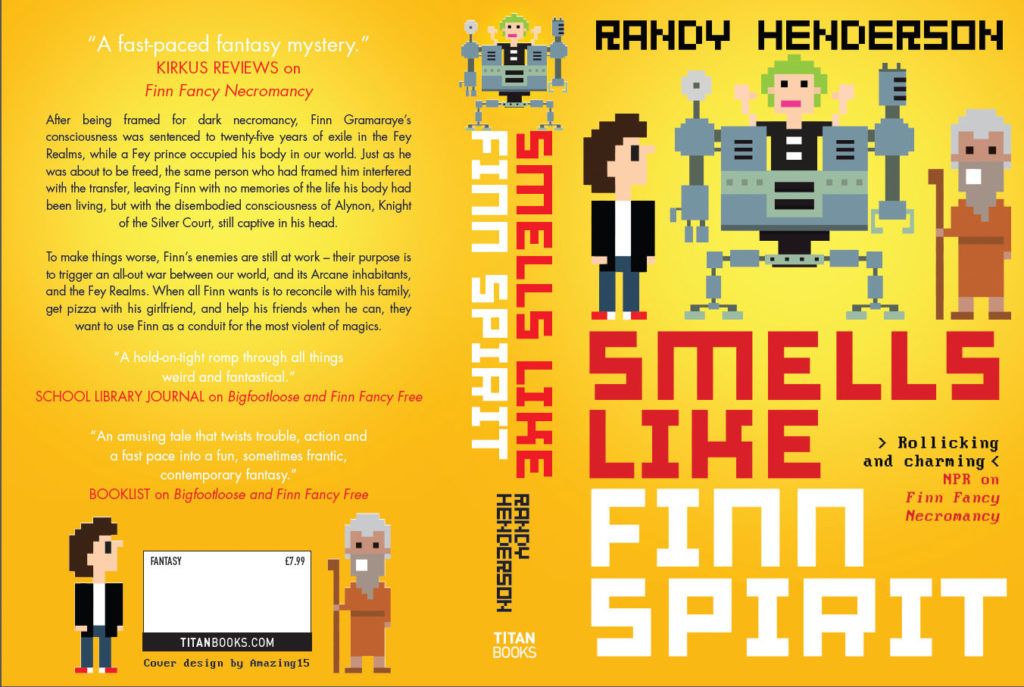 And here's the US cover from TOR again just for fun: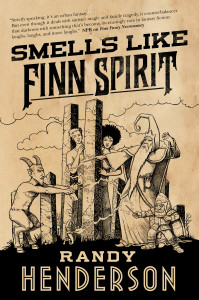 ( Read the rest of this entry »Collapse )Originally posted at my Mirror Blog at: http://www.randy-henderson.com/2017/01/bigfootloose-paperback-and-slfs-cover/
---
Happy New Year!
I thought I'd once again offer a bit of new year's encouragement and advice to help with the coming year.  While this is aimed primarily at my fellow writers, the same advice can also, I think, be applied to most any goal or creative pursuit, and to life in general, so just replace "writer" or "write" with whatever your passion is.
This weekend, I encourage you to sit down and do three things:
1) Create a calendar/schedule for your goals and tasks.
2) Create, or update, your list of goals and tasks.
3) BELIEVE, and do what makes you happy.
2017 will also certainly be a particularly important year to be active in supporting and fighting for what is important to you, without giving in to despair or in to anger that harms yourself. Here is a starting point for that: http://www.randy-henderson.com/2016/11/what-now/
( Read the rest of this entry »Collapse )Originally posted at my Mirror Blog at: http://www.randy-henderson.com/2017/01/setting-goals-2017/
---
The future remains in our hands.
Whether you woke up today feeling gutted, or terrified, or victorious, and regardless of who wins an election, the things that you can do to be happy and healthy remain much the same.  Except now I feel one of those things takes on even more importance.
Before I offer it, I want to say of course, please take care of yourself.  I've written before about the four areas that can impact your happiness – physical, mental, emotional and social.   That article is aimed at writers, but the basic points apply to everyone.  Always put on your own oxygen mask before helping others.
And I hope you all are safe, and remain so.
Now let me ask: what were your concerns in the election, or for the coming four years?
Advocacy & Human Rights, Environment, Immigrants & Refugees, Women, LGBT, Crisis Support, Education & Literacy, Employment, Homeless & Housing, Justice & Legal, People with Disabilities, Politics, Race & Ethnicity, Veterans & Military Families?
This list of categories (and others) is found on http://www.volunteermatch.org/, a site that lets you search for local volunteer opportunities.
This is what I wanted to suggest to help get us through the days ahead: volunteering.  It has been shown to add greatly to a person's happiness and health.  In fact, "community involvement" was one of the measurements used to determine my total health when I filled out a recent health questionnaire.
EDIT: Adding a link to an excellent list of organizations that you can also donate money to either in addition to, or instead of (if time/ ability does not allow) volunteering: Jezebel's list of pro-women, pro-immigrant, pro-Earth, anti-bigotry organizations
You can search sites like volunteermatch, or can search Google for specific organizations that support the causes you care about.
These organizations needed our help yesterday, but they will need our help even more perhaps tomorrow.
I myself have volunteered in the past, but admit I have fallen away from it in recent years, giving only money, always feeling it "wasn't a good time" to commit some of my time just now.  I am recommitting to it now, making it a priority to protect some time each week to help others.  It is something concrete and positive I am able to do, that I have the privilege to be able to do.
I recognize volunteering does not easily erase the scope of damage that the US government can do with trickle-down economic policies, or ignoring global climate change, or hardline immigration policies, or rolling back decades of progress on civil and personal rights, or, you know, nuclear weapons.
But we can help offset much of that damage I hope, help those hurt by such outcomes, and perhaps even pressure change in the right direction.
And I certainly do not wish to diminish the real fears and concerns of those who have been targeted these past months with hateful speech and threats by suggesting volunteering will make those dangers magically disappear.  Again, I hope you are safe, and my thoughts are with you.
I also recognize that there are some people who are genuinely unable to volunteer due to the burden of time, or access to the transportation or resources needed, or due to age or physical or health or legal limitations or other considerations.
Regardless of whether or not community involvement is an option for you, again I hope you take care of your own health and happiness in the coming days and years, and reach out for help if you are in need.
Share love with your family and friends.  Perform a random act of kindness today for a stranger to help lift your heart and theirs — then do it again the next day, and the next.
And know that we can get through whatever comes, together.
UPDATE: I have begun one regular volunteer job, and added several regular donations to my budget.  I hope to do even more as time and funds allow.
Originally posted at my Mirror Blog at: http://www.randy-henderson.com/2016/11/w
hat-now/
---
I created this handy election map in case folks were trying to understand where we stand.
Polls show that much of the blue areas are due to Hobbit, High Elvish and Good Wizard influence, thus the movement to
#unmakethe3rings
that gave the elves and Gandalf power to influence the vote, and the push to send all Hobbits back to the Shire and build a wall around them.
Per Sauron, "It would be great. It wouldn't even have to be a tall wall. Have you seen the Hobbits? Even smaller than those fat ugly dwarves. But believe me folks, there's nothing small about me."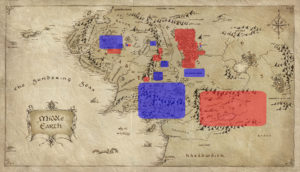 Originally posted at my Mirror Blog at: http://www.randy-henderson.com/2016/10/t
he-real-2016-election-map/
---
I found myself in a number of conversations at WorldCon where persons were seeking my advice or thoughts on their writing, or seeking advice of a group in which I sat, and would say some variation on:
"People seem to have a problem with me calling it Warrior Wanda the Space Slut.  But I mean slut in a positive or ironic way, because she is a powerful woman so she can have sex with whoever she likes."
Or
"I have a pretty graphic rape scene in my novel, but if I didn't have it she wouldn't have that motivation to get stronger from it and learn to fight that is so important in my story."
These persons were clearly seeking someone to say, yes, that is okay.
And I engaged in these conversations in a calm, friendly, positive way.
Why?
Because I have the privilege to do so.
By this, I do not mean the honor, though really it is an honor to be asked my opinion on anything.  Rather, I mean that had such questions been asked of someone who identifies as female, for example, such questions would have been understandably offensive and anger-inducing, and made the person feel unsafe, along with a host of other reactions.
I'm not saying I found the questions pleasant and encouraging, but I recognize that my con experience as a cis white male who presents as het is entirely different from that of anyone who is other than that.
So while I cringed internally, I did not walk away, or mock these persons then, or later with my friends.   I gave them a clear but disgust-free expression of "Oooooo, I wouldn't do that," and proceeded to lay out in positive terms how they could improve their stories, and their chances of reaching a broader audience.
Here is an example of the types of thing I try to say in these cases, with the goal not being to score points or put him in his place, but to help guide the writer in the right direction where they will hopefully learn for themselves in time what cannot be forced into their understanding in a single argument (And to be clear, I am not in any way saying there are not other approaches, or that outright anger is in any way not a valid response for others to have):
( Read the rest of this entry »Collapse )Originally posted at my Mirror Blog at: http://www.randy-henderson.com/2016/08/talking-to-wordsluts/
---
Ghostbusters was great fun. Reading reviews, I see it really being reviewed as four different things, and depending on which, the reviews vary widely:
1) Remake of a beloved classic
3) A work of female representation and empowerment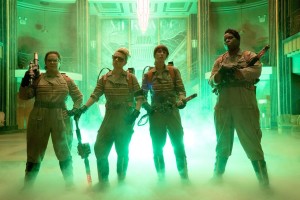 1) Remake: It was that perfect blend of nods to the original yet different enough to be fresh. Much better than many of the other remakes in recent years.
2) Comedy: It was funny, I laughed out loud a number of times. But it lacked a character with the same level of comedic snark as Murray's character in the original. This was not the fault of the actors, but of the writers.
3) Film: It was okay, but the plot was rather straightforward, there weren't really any surprises. In the first, you had the mystery of Zuul and the keymaster/gatekeeper etc, with the (albeit light) romance subplot, which felt like multiple threads that came together in the end (like particle streams). This one didn't feel quite as well developed plot-wise, the revelations along the way not really surprising. And the opening had a huge issue for me when I expected at first the character who seemed to have died in the basement to turn out to be possessed or a demon or something but no, he just inexplicably escaped?
4) Female Representation and Empowerment: Awesome. And well done. The jokes about internet comments were perfect. Lots of meta stuff to enjoy. And I got a bit teared up at the end, when they are all on the balcony. I can't remember the exact words, but I felt when I saw it that they were talking as much about their accomplishment in making the film and doing it well as in defeating the giant Trump robot.
Well, okay, it wasn't a Trump robot, but maybe in the sequel?
Originally posted at my Mirror Blog at: http://www.randy-henderson.com/2016/07/g
hostbusters/
---
I feel like one more post on Orlando is just noise right now. Yet I also feel silence is unacceptable. So, in short:
First, it is not any one problem, it is multiple problems. And the solutions are complex and many.  Here's an admittedly simplistic and limited list:
Yes, it is the problem of fundamentalist extremists who believe violence is a divinely blessed action (which we have in every religion).  Solution: Religion isn't going anywhere for a while, so as long as it is here, support moderate voices in all religions and ideologies, and don't arbitrarily punish those who believe in the same version of deity as this week's terrorist yet don't share the same belief in violence.  Embrace the messages of love and peace, and leave the outdated bigotry and fears (and rivalries) of the Iron Age tribes behind.
Yes, it is an issue of bigotry and hatred.  Solution: do not shame people for being different (which only leads to self-shame), and do not support the insidious belief that some deity has deemed their very nature a sin, be that nature their sex, orientation, or race. Know that someone being different than you does not take anything away from you.  Diversity is strength.  And if you know someone who is not a cis-gendered heterosexual, reach out and let them know you care about them.  Events like this are a scary reminder of the hate and violence that can strike them at any time just for being who they are.
Yes, it is an issue of uncontrolled gun sales.  Solution: Let the government study the disease of gun violence, to determine and vote into law effective safety rules and regulations the same as we have for cars, for planes, for alcohol, for anything else that may be dangerous if abused.  We can regulate gun sales and license owners without violating the 2nd Amendment.
Yes, it is an issue of mental health.  Solution: greater support of mental health facilities, greater support of mental health services by insurance providers and government health programs, and less stigmatization so that people aren't afraid to seek help.
And Yes, it is a problem of broken politics.  Solution: Force States to rewrite voting district lines fairly, and push for campaign finance reform, so that the vast majority of Congress are not safely GOP or Dem seats sponsored by special interest groups and wealthy donors, where the members only have to worry about pandering to the most extreme in their party to keep their seat rather than actually being accountable to a widely representative group of voters.
Here's some folks you can send your thoughts to or support besides the echo chamber on Facebook:
If in the US, contact your US Representative
Human Rights Campaign – LGBT support
GLAAD (Gay & Lesbian Alliance Against Defamation)
National Alliance on Mental Illness
Volunteermatch where you can find general volunteer opportunities
Originally posted at my Mirror Blog at: http://www.randy-henderson.com/2016/06/o
rlando/
---
Want to know how to get published?  Well, there's lots of ways, actually

And writer/ editor Shannon Page has put together a pretty neat collection of essays called The Usual Path to Publication by 27 published authors (including yours truly) on HOW they got published.  Check it out!
And for some additional fact-dense and flow-charty info on publishing options, you can also see my post on How to Become a Novelist (Part 2): Publish a Novel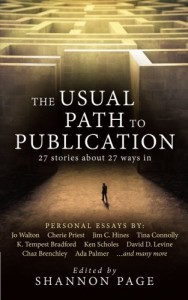 Links:
Originally posted at my Mirror Blog at: http://www.randy-henderson.com/2016/06/p
ath-to-publication/
---