I sold my Finn Fancy Necromancy series to Tor.
Beth Meacham is my editor. Cameron McClure is my agent. And OH MY GOD OH MY GOD is my brain.
In a little over a year, I will be able to walk into book stores and see my book on the Fantasy and Science Fiction shelf.  It's fraking amazing, and unbelievable, and pretty much anything that happens after this point is pure icing.
Thanks to everyone who helped me reach this point.
Originally posted at my Mirror Blog at: http://www.randy-henderson.com/2013/09/s
oldmynove/
---
The September Issue of Penumbra Magazine featuring some great Fae stories (including my story "The Beloved Changeling who was Neither") is now for sale: http://penumbra.musapublishing.com/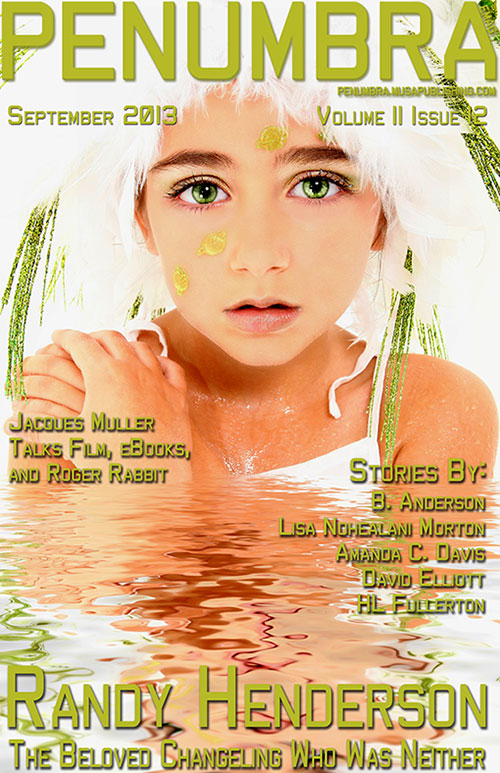 Originally posted at my Mirror Blog at: http://www.randy-henderson.com/2013/09/g
et-your-fae-on-with-penumbra-september-i
ssue/
---
---
Happy August Day!  Don't forget to dress like Caesar Augustus and sacrifice a bull to Mithras!  Wait, that is a thing on August Day, isn't it?  If not, it should be.  And then it would evolve into sacrificing all bull, meaning you cannot tell a lie on August day.  Then that would drive a whole slew of greeting cards with lies in them you can hand out instead of speaking lies and to make a joke by it really being true (You look great!).  And then Christianity would co-opt it and declare August 1st the day that Peter denied Christ and therefore no lie shall be told on Peter's Day.  And …anyway, happy August day!
Originally posted at my Mirror Blog at: http://www.randy-henderson.com/2013/08/h
appy-august-day/
---
I could bemoan the injustice of the Trayvon Martin case, but just as easy as it is to blast off a post or tweet saying "I am ashamed of the US legal system" or snark on how easy it is NOT to shoot someone, it is equally as easy for everyone to ignore or quickly forget that — and anyone who doesn't already agree with it anyway certainly won't be changed.
But here's what I as a white male can do to work towards a future where all people are treated equally, and truly have equal protection, opportunity, and access to power.
( Read the rest of this entry »Collapse )Originally posted at my Mirror Blog at: http://www.randy-henderson.com/2013/07/white-male-manifesto/
---
Spoke to Neil Gaiman at the party last night, and since I knew that there were plenty of folks who would love the chance to do so, I felt a responsibility to ask him a very important question that I'm sure most of his fans would like answered. So:
Me: "Since the 80′s sound is popular right now, do you think Duran Duran has a good chance for another comeback?"
Neil: "I hope so. I still own the rights to that book, so if they did, I'd have a chance at real success."
There you go. You're welcome.
Also, it was awesome to see many online writer friends in person, and of course to hang with all my Clarion West family old and new.
Originally posted at my Mirror Blog at: http://www.randy-henderson.com/2013/07/m
y-neil-gaiman-chat/
---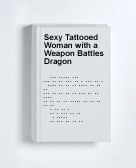 I'm starting Occupy Writing.
First Item: Novels have art on the cover. Why don't art books have flash fiction on the cover?! UNFAIR!
I'm talking a nice, white cover with black print, featuring an original short story intended to sum up the entirety of the artwork within, yet oddly is always titled something like "Sexy Tattooed Woman with a Weapon Battles Dragon" or similar?
Let's make this happen folks!
Originally posted at my Mirror Blog at: http://www.randy-henderson.com/2013/07/o
ccupy-writing-art-book-covers/
---
I am participating in the Clarion West Write-a-Thon. You must give them your spare change by clicking Donate on my page. Here is why:
1) I have a Procrastination Ray and I'm not afraid to point it at George RR Martin if my demands are not met.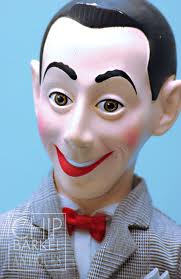 2) I will send a picture of me shirtless kissing a creepy (and oddly stained) Pee Wee Herman doll to my highest bidder. This is not because I think I'm all that. It is because such blackmail material will only increase in value over time as I achieve fame and fortune, making this a wiser economic investment than stocks or real estate.
3) For my second-highest bidder, I will name an annoying little dog character after anyone you wish.
4) Oh yeah, and it helps to fund one of the best dang writing workshops out there. Your money will help to launch the careers of future fantasy, scifi and horror writers so that you are not stuck choosing between warmed over Twilight fan fiction or historical figures battling Disney-fied monsters.
http://www.clarionwest.org/writeathon/randyhenderson
Originally posted at my Mirror Blog at: http://www.randy-henderson.com/2013/07/m
y-clarion-west-write-a-thon-2013-pitch/
---
So it was recently announced that Abigail Gibbs, an 18 year old, has received a six-figure deal for her Vampire romance series Dark Heroine.
Ugh. News like this can certainly be frustrating and demotivating to emerging and even established authors who have worked long and hard on their craft to little or modest success. And between this and 50 Shades, I expect to see a ton of
panels, blog posts, and discussions about whether fan fiction and online serial publishing is the new path to success. However, while there are these anecdotal success stories, I think that working on being a good writer and creating a well-crafted story are still the best way to go. I can't imagine a young woman will be saving 50 Shades or Dark Heroine on their bookshelf until they are a mother and handing it down to their daughters, or going back and reading that well-worn paperback each year with the feeling of visiting an old friend. And for every one success story like this, there are hundreds of thousands of folks who get nothing but a couple of "ZOMG! kewl storey!" comments. So please, don't aspire to write the next Dark Heroine. Aspire to be the next Le Guin, Butler, or even Anne Rice. I mean, I enjoy a light read as much as the next person, but I don't aspire to, or chase after, the lukewarm leftovers of crappy snackfood novels past. And really, I doubt that agents and editors will now be scouring fan sites and online forums for their next big success. They are already overwhelmed sifting through the submissions of authors who have proven themselves serious by submitting a well thought out and correctly formatted query or manuscript. Which is not to say that online serial publishing and other online methods don't offer the chance to grow as a writer through reader feedback (including the feedback of nobody wanting to read your stuff). But in quality of output, odds of meaningful success, and for the respect of your peers, I think the more traditional paths of the serious writer still win out.</p>
Originally posted at my Mirror Blog at: http://www.randy-henderson.com/2012/09/o
n-18-year-old-writers-getting-six-figure-d
eals-for-vampire-fiction/
---
If you're going to be at Worldcon 2012/ Chicon 7 in Chicago, I hope you'll drop by, bask in my radiance and wisdom (or at least the delicious scent of my new shampoo), and share a few laughs with me.
FRIDAY Aug 31:
4:30:pm – 5:00:pm READING: FINN FANCY NECROMANCY PANTS by Randy Henderson
It's Dresden Files meets Arrested Development with an 80′s flavor.  There will be totally awesome 80′s door prizes given away.
In the Dusable room.
The Goonies look on in amazement as Randy reads from his novel
SATURDAY
10:30:am- 11:00:am WRITER UNDER GLASS: I'll be sitting in the Fan Lounge for 30 minutes writing part of a collaborative story as part of an ongoing stunt.  Whatever I write will be displayed on a monitor for all to see.
In the Fan Lounge.
3:00:pm- 4:30:pm PANEL: VIVID CHARACTER BUILDING
How do you create vivid characters who pop off the page? How do you avoid archetypes/stereotypes and predictability? Join a panel of writers discussing their techniques and tricks and ask questions of your own.
Bryan Thomas Schmidt Carol Berg Kay Kenyon Randy Henderson Teresa Frohock
In the Columbus CD room.
MONDAY
12:00:pm- 1:30:pm  KAFFEEKLATSCHE: EVERYTHING YOU NEED TO KNOW TO BE A PUBLISHED WRITER with Randy Henderson.  I'll be running through my workshop presentation "Evolution of a Writer in Six Stages", offering exercises, answering questions, and chatting about whatever you want to chat about.
In Kaffeeklatsche 3
Originally posted at my Mirror Blog at: http://www.randy-henderson.com/2012/08/m
y-totally-awesome-world-con-chicon-7-sch
edule/
---